Have Your Next Event at Urban Winery Sydney 
---
Ever wanted to host an event in a winery?
Well, with Urban Winery Sydney being only 10 minutes away from the city, you can do just that!
Some of you might know us for our crisp whites and our full-bodied reds, however along with those delicious wines we also offer the chance to host a wide range of events in our unique space.
From magical weddings, to funky corporate cocktails or even if you are just wanting to get together and celebrate with your nearest and dearest,
we have a total of three beautiful spaces that can be hired out and transformed as you wish.
THE WINERY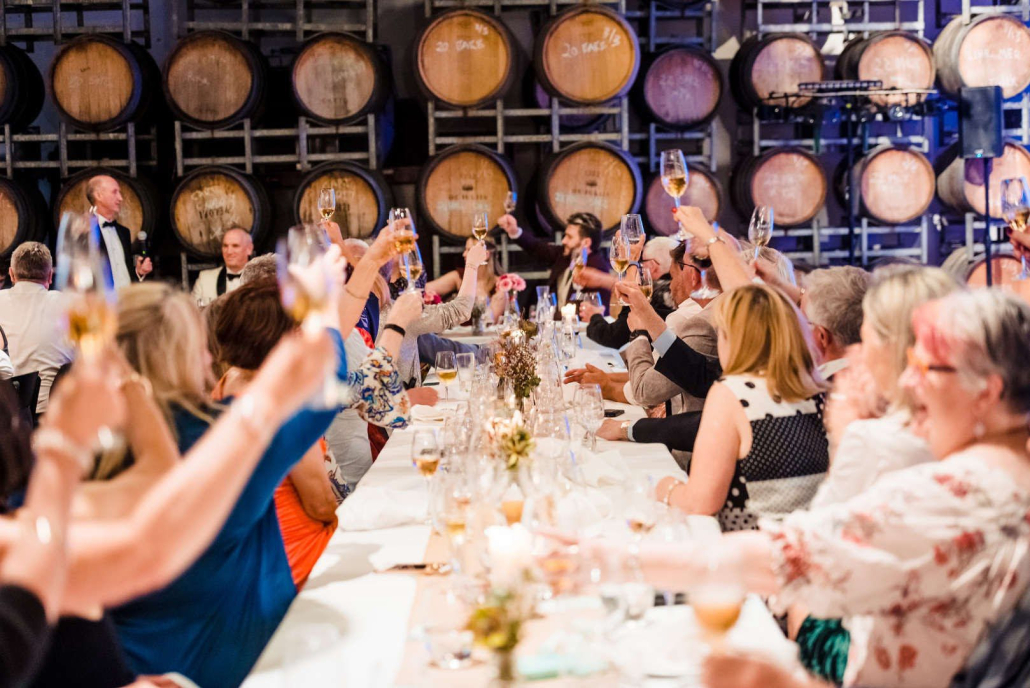 Our biggest space, surrounded by the beautiful oak barrels and enchanting smell of wine, this area is a blank canvas. Whether you're looking for a sit down meal or a cocktail style event, this is the space for you.
Our space can easily fit up to 150 people for a sit down meal and 250 for an inside cocktail event.
When it comes to styling, we encourage and welcome you to bring in your own florists, decorations and any extra AV equipment to truly make the space your own.
The space has proudly seen a number of different and amazing DJs and bands, balloon extravaganza's and gorgeous floral arrangements – each making the space unique for every client.
Transform the space to reflect your vision at your upcoming wedding, cocktail party or your child's Bah mitzvah/Bat mitzvah!
Dreaming to get out of the boardroom and into a winery? Wanting to elevate your next business meeting or merely impress clients and colleagues?
We offer the hire of two 65 inch TVs on portable stands if you want to discuss important matters over a glass of wine.
Reward your hard work of the day and enjoy a team building exercise out of one of our wine tasting, or blending experiences, to help take the work load off.
Internally, as an event space, we offer our beverage packages, including our delicious A.Retief wines, and the option of local NSW cheese and charcuterie boards.
If you are looking for a heartier food offering, we have an amazing external caterer we use for anything from canapés, sit-down meals or unique food stations.
If you do wish to bring in your own catering options we certainly welcome that as well.
THE WINE BAR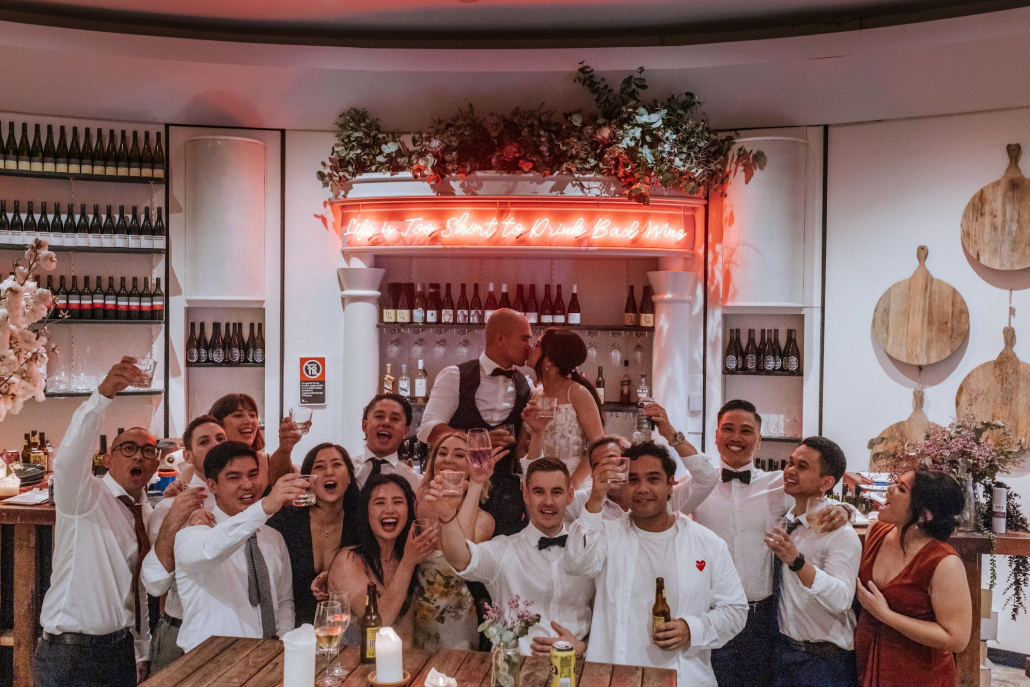 Our beautifully rustic wine bar is not only open to the public Thursday through to Sunday, but if it's something you wish to include in your event package,
for exclusive winery access, we are delighted to offer that for you. It's a brilliant space to utilise for events.
The wine bar can be utilised as a versatile breakout space, either as a means for a subdued area to drink and chat, or a wonderful option to setup an external Photo Booth to capture the fun memories from your event. Our wine bar is also a lovely quirky place to take photos. With dimming lights, NSW native florals and a big neon sign stating "Life's too short to drink bad wine",
it provides the perfect photo opportunity to spruce up your instagram grid, or can be a beautiful backdrop for the newlyweds to snap an intimate moment together!
THE LANEWAY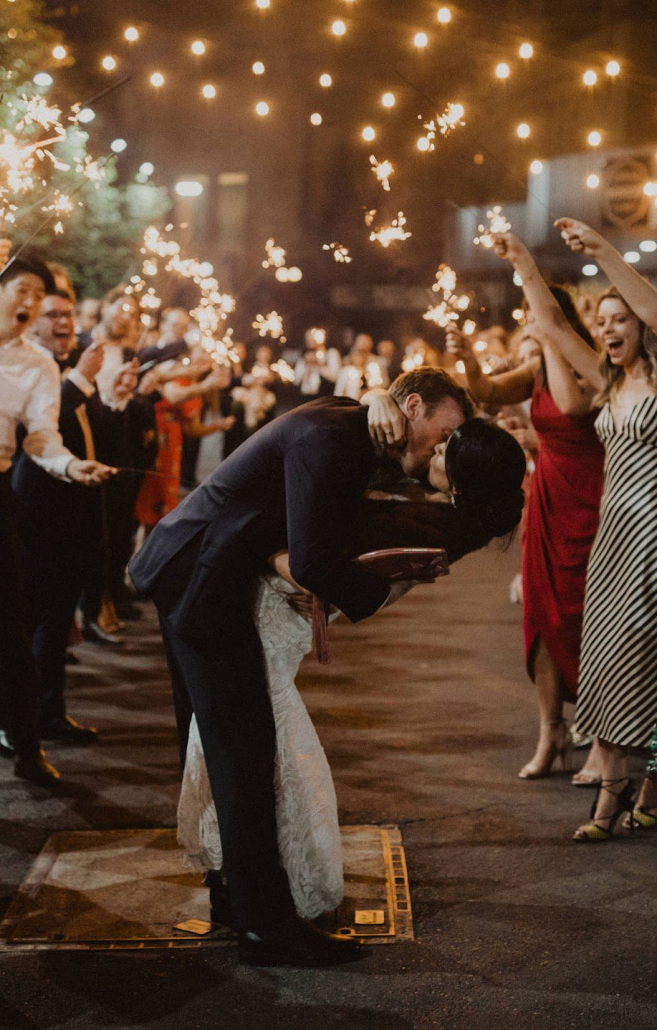 Running right next to our beautiful building is The Laneway. Scattered with barrels, umbrellas, tables and chairs our laneway is the best way to take your event outside.
With three double doors leading out from the winery, it's perfect to allow your guests to navigate through each space.

Our laneway is sectioned off from the public with tall stacks of wine barrels at either end, these can of course be moved to suit your events needs, but also offer the perfect back-drop to any wedding ceremony, as your florists are more than welcome to add any floral arrangements you may want to make your wedding picture perfect.
Despite Australia being known for its heat and beautiful weather, we do have outside heaters for those cooler winter months.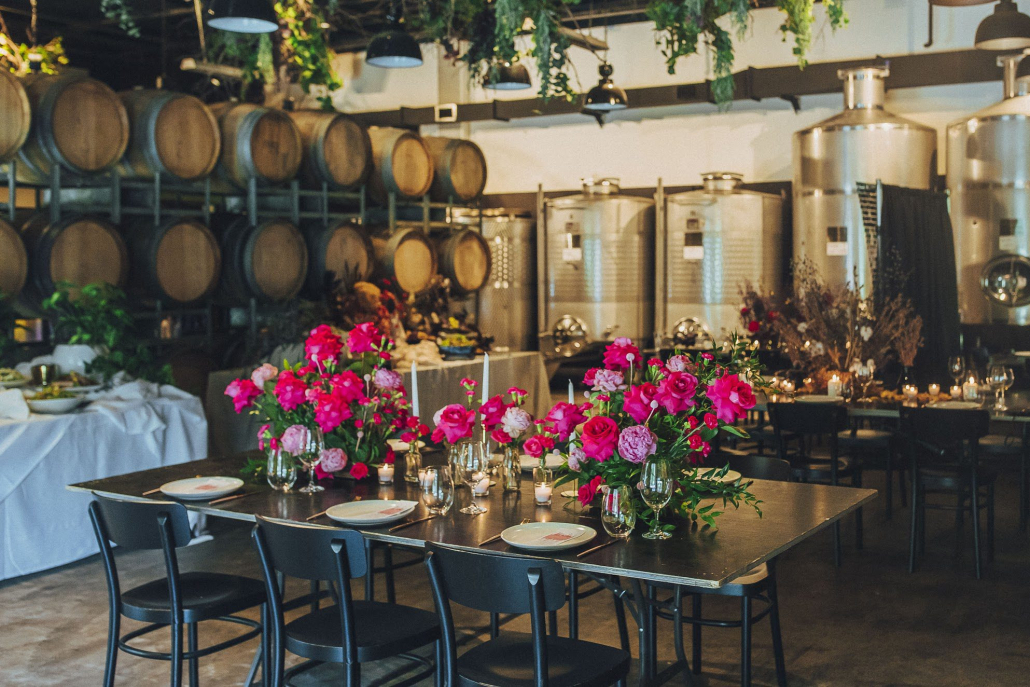 SO… WHO DO I SPEAK TO ABOUT MY EVENT?
Anyone who has ever organised or been to an event knows that a venue can only take it so far, which is why we have a fantastic team behind the beautiful exterior.
The owner of the Urban Winery Sydney is Alex Retief, a well accomplished winemaker who creates all the wine we have maturing away in our barrels,
and the delicious final products in the copious bottles behind the bar.
If you are looking at having an event with us and are wondering about pricing the first person you'll be in contact with is our amazing sales manager Ondria.
She will create your own personalised event package, including all your wants and needs, and is more than happy to offer a site visit – gladly answering any questions or queries you might have.
Once you decide to go ahead with your event, you will be introduced to our brilliant events manager Anna, who will work with you to bring your vision to life. She will organise and incorporate every little detail of your event right down to the last second. Creating agendas and floor plans that suit yours and your suppliers needs, ensuring that everyone is on the same page before the event day comes around.
Now, event day can be stressful for some people, especially weddings, however don't fret because our lovely event supervisor Holly will be on hand on the day to make sure everything runs smoothly. That way you can sit back, enjoy yourself and don't have any stress on the day. She will help organise any external suppliers that have been booked, and her and her team of staff members will be making sure all guests are happy and having a brilliant time.
So if you think Urban Winery Sydney is the place for you and your next event, please feel free to reach out to us at enquiries@urbanwinerysydney.com.au so we can begin your event journey together.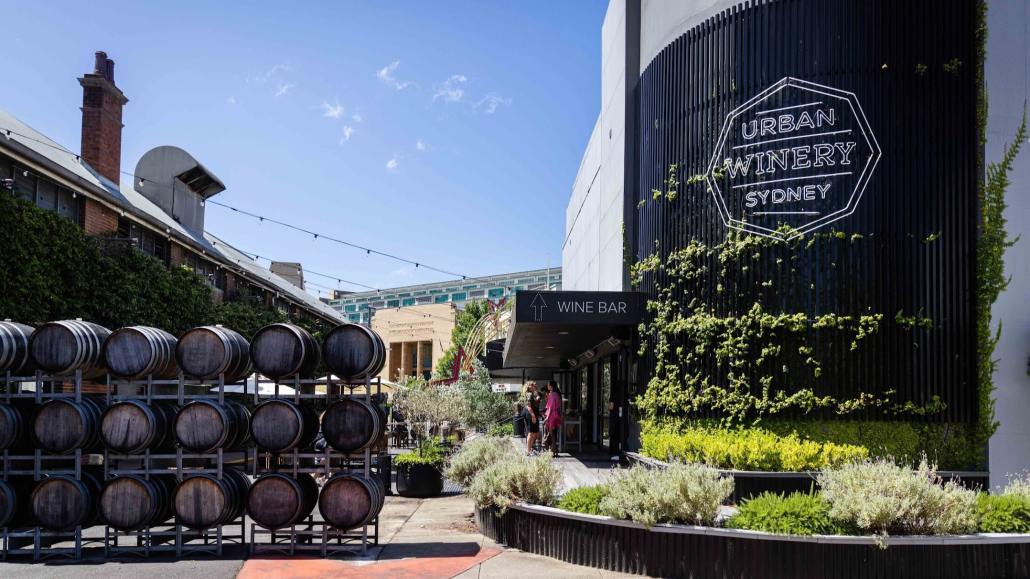 ---
Coming up soon…
Fancy an oyster with your glass of wine?
Pop into our wine bar on any Thursday between the 16th of February and the 6th of April, and enjoy complimentary, fresh oysters with every purchase of wine!
Our wine bar is open from 4pm every Thursday, but make sure you get in fast because once they're gone, that's all until the next week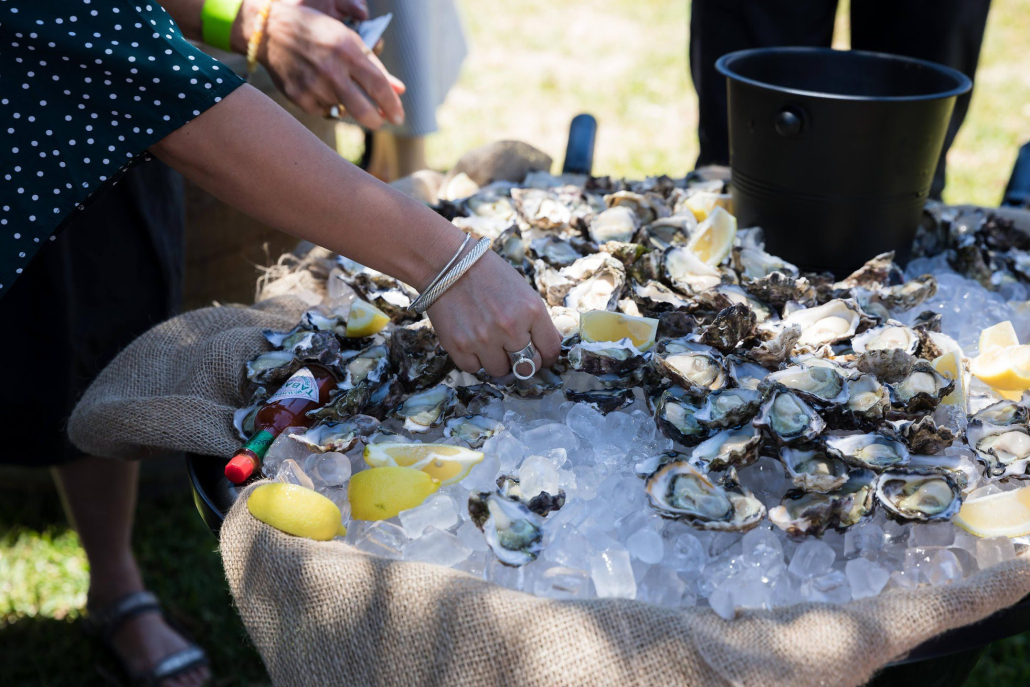 Happy Pride Month!
In celebration of Mardi Gras and all of our out and proud customers, for Pride month, Urban Winery Sydney is offering our new Rainbow Dozen at a 25% discount.
That means 12 wines from our coloured label range for $250!
The wines included in our Rainbow Dozen are:
2019 A.RETIEF RIESLING – HILLTOPS
Limey – textual palate. floral nose stacked with elderflower and daisies.
Slight ginger spice on the finish.
2018 A.RETIEF SAUVIGNON BLANC – TUMBARUMBA
Made in the traditional 'Bordeaux style', fermented in French oak barriques with 14 months on yeast lees, the wine has an extra level of structure and complexity.
The nose is one of stone fruit, guava and melon with a palate that is lightly textured leading to a long fresh finish that is clean and dry.
2022 A.RETIEF MATARO ROSE – HILLTOPS
Made solely from Mataro, the nose is bright and alive with cherries and strawberries and cream and the palate is definitely on the drier end of the scale.
There is an excellent mouthfeel, texture and the palate is a great balance between acid and fruit.
2019 A.RETIEF LIGHT DRY RED – GUNDAGAI & HILLTOPS
Made in a summer red style, the aroma is dried spice and fresh florals.
The palate is bright and light, red currants, light tannins and a long middle seam.
2019 A.RETIEF MEDIUM DRY RED – HILLTOPS & GUNDAGAI
A deeper and heavier blend, but not just for cold winter nights.
Deep brooding nose, palate is long and balanced – red berry mingling with dark chocolate, medium tannins with a dry spice finish.
2019 A.RETIEF MERLOT – HILLTOPS
Rich red fruits – almost Christmas cake aromas
– extends to the palate which is soft yet full.
A medium bodied, smooth and balanced easy drinking wine.
2019 A.RETIEF CABERNET SAUVIGNON – HILLTOPS
Rich aromas of bayleaf, leather and cigar box.
Balanced palate with black currant and light pepper, slowly building to a crescendo of tannin, cocoa and tobacco.
2019 A.RETIEF SHIRAZ – HILLTOPS
Aromas of cardamon, cocoa and light coffee – the palate is bright red fruits, cherry and plums followed by blackberry and dry fennel.
Black and white pepper with a lifted floral finish.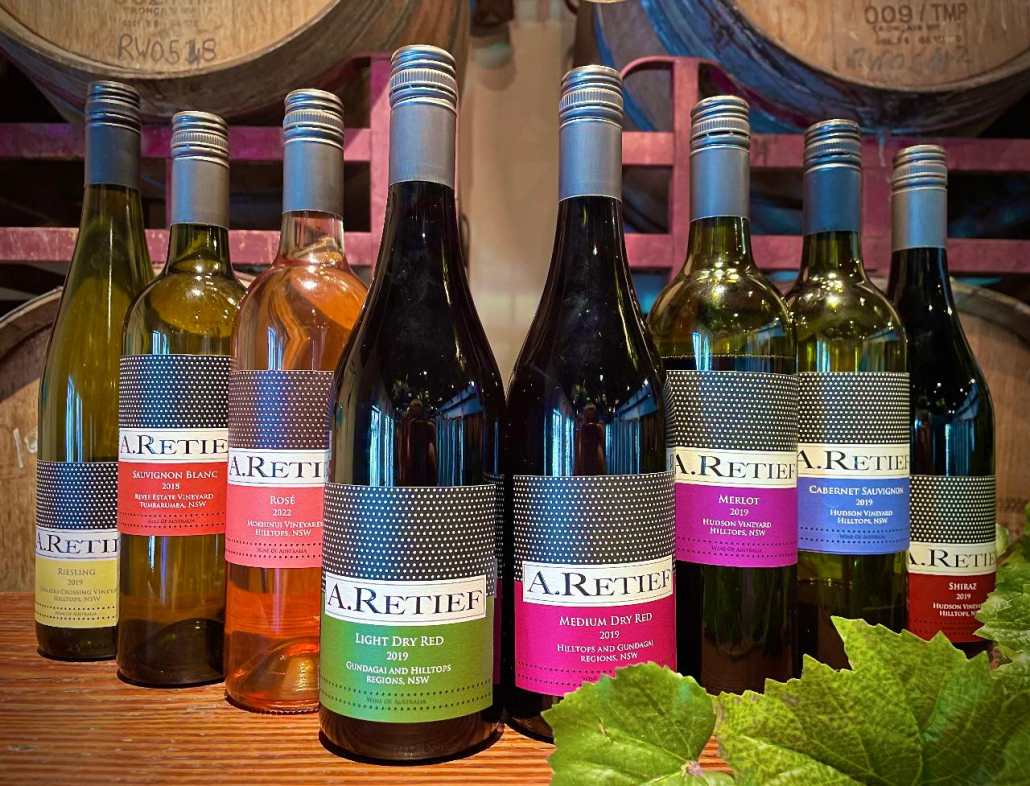 https://urbanwinerysydney.com.au/wp-content/uploads/2023/02/05-1.jpeg
1213
2156
Anna
https://urbanwinerysydney.com.au/wp-content/uploads/2018/05/logo-200.jpg
Anna
2023-02-14 14:52:29
2023-03-31 09:45:57
 Have Your Next Event at Urban Winery Sydney