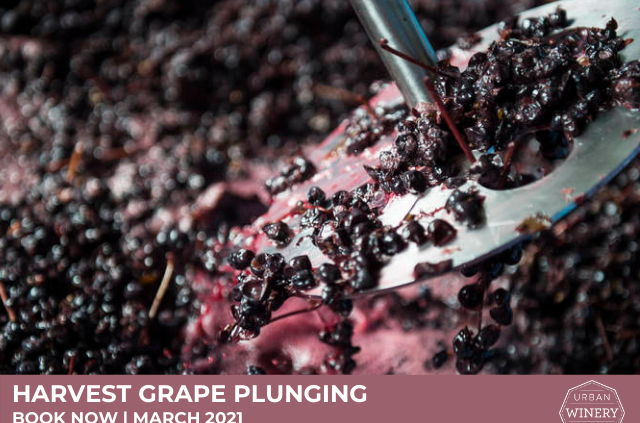 Harvest. It's the ultimate time of year in any winery, essentially the start of a new year. It's full of excitement and opportunity and perhaps because of the crazy 12 months we have just had, I found myself reflecting on a few things.

This year will marks 6 years since we started Urban Winery Sydney. What on earth was I thinking?

The more I thought about it, the more I kept coming back to the three key goals I had.

First, to make amazing wine from cool climate NSW regions. Hopefully you've all tried some, I'm particularly proud of our new releases including 2018 Tumbarumba Chardonnay, 2019 Gundagai Shiraz and the 2020 Hilltops Sangiovese. Buy a mixed New Release case Here.

Second – and of course linked to that – to make the wines right in the middle of the city, as a way to show people that wine making isn't stuffy or a secret society. Sure, it can be complex and thoughtful, but it's also hands-on and fun. And I've always wanted people to understand how the final product gets into the bottle. It couldn't happen without passionate growers, who don't get celebrated enough. And the many different ways you can treat fruit can have all sorts of consequences.

Finally, we really wanted to show off the amazing quality and diversity of wines that NSW has to offer. Did you know NSW has 16 different wine regions? And we only stock NSW wines, spirits and beer in our cellar door – and even we don't have space for all the good ones!!

Our amazing team – and a whole lot more people along the way – have helped me to do this, and we've also created something that wasn't an initial goal but was important to the concept: a place where people that want to learn about food and wine.
I didn't realise there would be such a great community of people like this in Sydney, and I've learnt so much from the talented chefs we've worked with; have loved collaborating and sharing equipment with urban brewers and distillers; and winemakers from all the regions who drop in. And have also been so privileged to have so many people celebrate important milestones with us, or visit and keep coming back.

HARVEST: GET INVOLVED

So, back to harvest. This one's looking interesting: it's been a cooler, wetter year, so yields will be a little low but the fruit that is coming in should be full of strong flavours.

Harvest is a great time to learn about wine – messy, fun and a chance to really smell that intoxicating grape ferment which permeates the winery and is often kicked off by natural yeasts flying around the space.

Every year since we started, we have offered people a chance to come and stomp our grapes. Behind the scenes, this can be challenging – we won't pick the fruit until it's ready for the sort of wine we want to make, and that picking time swings around based on sun, wind, rain and is always different. And I won't get into the challenges of getting a semi through residential streets at midnight! Even if stomping tickets come online a little late, the response has always been awesome, and we've loved having so many people through the winery and in a vat!!

This year, we're doing it a little differently, because it seems better safe than not. Instead of stomping the grapes with feet, we're going to do it the way most winemakers actually do – with a hand plunger. It's still a very sensory experience: it can be quite hard work to mix the fruit through, the smell of the grapes is intense, and it's something you can't normally do unless you are working in a winery for harvest. It's also going to allow us to sanitise the plunger handles between each group, just to be safe. As usual with our harvest sessions, I'll be there at all of them to explain the point of it all, and take over if it gets tough. (Truthfully, I don't like being too far away from the grapes at this point so am in the winery all the time in harvest!) And, of course, just like our normal harvest experience, after you've done the hard work, you'll get a chance to taste grape juice that is fermenting away and kick back amid our barrels with a delicious cheese, charcuterie and of course, some wine. These plunging sessions will probably begin the first weekend of March and you can buy tickets here

We're toying with the idea of offering private stomping group sessions so get in touch if you are interested get in touch and hopefully, we'll have worked through the finer details on this by then!

During March, we're pausing the blending classes and winery tours to focus on harvest. But they're also a great way to get involved in learning about wine.

We're so proud of where the winery is now – but have loads more plans to make it even better! One of the things we are really to keen find a slot for is another abalone and turban shell feast with South Coast diver Greg Finn – we've been talking for months, but 2021 is the year to get him back!! And, this year, finally, we really want to do proper dinners for our new releases – it will be a great way to taste new wines, in the place they were made, matched with spectacular food.

Harvest Experience
At any age!
Due to the current COVID climate, we will be running grape plunging with ferment checks instead of stomping.
Still awesome fun!
And with wine, cheese and charcuterie!!
Buy a plunging session now- $100

New Release Wines
2018 A.Retief barrel-ferment Chardonnay, Tumbarumba-
A rich more old school style of Chardonnay that is long but balanced with new oak. Elegant and voluptuous a winemakers favourite.

2020 A.Retief Sangiovese, Hilltops-
From a difficult year of bushfires and drought, this young red is full of crunchy fruit and light brambly tannins. The perfect summer red- can be slightly chilled as well. And just picked up a silver medal at the NSW Wine Show!

2019 A.Retief Reserve Shiraz-
2019 was a very warm year merging into drought. The year produced fruit of amazing concentration and colour and I matured a portion in brand new French oak for 18 months. The wine is deep purple, chocolate and cherry flavours with an incredible intensity from an area that is normally cooler climate.
https://urbanwinerysydney.com.au/wp-content/uploads/2020/12/Website-pop-up-creative-1.png
480
640
Anna
https://urbanwinerysydney.com.au/wp-content/uploads/2018/05/logo-200.jpg
Anna
2021-02-16 08:08:39
2021-02-16 08:13:11
JOIN US FOR VINTAGE 2021